After not getting to much done on my Devember project's Space Invaders in the last two days (not that I need to justify myself, but it was my birthday after all) I'm taking a break from the mendatory games this weekend and will be taking part in Ludum Dare 34 instead. I missed the first few hours because my parents were visiting but I'm starting now and will be updating this entry regularly as time permits.
1 Day, 13 h, 40m left: Themes are "growing" and "two button controls". While I'm working with the first there might be a connection to the two button controls as well. I've decided to make an incremental game about growing and selling weed. And because I like a challange it is not going to be text-based like my first incremental game attempt but I will try to make some kind of nice graphics. I was planning to do Ludum Dare with Unity but it's not the best choice for the game I have in mind, I think. So I'm going back to HTML5 and Javascript for now and I'll probably use the phaser framework once again.
1 Day, 11 h, 45m left: Graphics are looking … interesting … Also for some reason WAMP is not working anymore, so right now I'm spending my time getting it to work again.
1 Day, 11 h, 35m left: Installed XAMPP and it's working.
1 Day, 10 h, 0m left: Everything technical is working at the moment. Basic functionalities are working as well. One can plant weed, and after some time sell the grown weed. Money, plants & weed are updating like they are supposed to. Now it's time for upgrades and additional functionalities. Also no graphics in main game yet, will have to work on that. But first I have to go to the supermarket real quick.
1 Day, 8 h, 10m left: Game is starting to look a little better but still a lot to do. First Upgrade buttons will be finished soon.
1 Day, 5 h, 54m left: For the first time since I started I feel like I have something to share. This is how my game looks like at this point: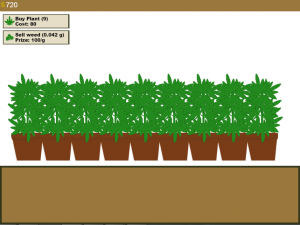 I know I said that Upgrade Buttons would be coming soon but I decided to do something else instead. So far I haven't had to many problems, although my code is probably not the prettiest. But now I'm really starting with the upgrades. First up: a watering can. Also weed will not generate itself anymore pretty soon, instead one will have to pick it with the mouse.
1 Day, 4 h, 4m left: This time I actually did what I wanted to do. Watering can is added and unless you buy the "workers" upgrade you have to pick your weed manually. I think my next step will be something really challanging for me. I want to add animation to the watering can so that every other time the can's actually water the plants. Let's see how it goes. On a different note: I'm really enjoying my first game jam but I'm also slowly getting a little tired.
1 Day, 2 h, 30m left: Animation actually worked pretty well and without any mayor problems. However I did run into the first bigger obstacle in the last 1,5 hours. I wanted to increase the weed you get out of a click on a plant with attached watering can. I have an array for all the plants were I store if they have water or not and while there are less then 9 plants I add a plant-sprite everytime a new plant is bought. Same with the watering can, everytime one is added I display a new spirte and also update the plant array. That was the easy part. But finding out if the clicked sprite corresponds to a plant with water wasn't that easy. But I have to admit that the problem was mainly due to logical errors I made. Maybe it is time for bed …
1 Day, 2 h, 22m left: I'm really really tired right now. Not really feeling as if I could come up with useable code right now. Instead I'm brainstorming what has to be added before the deadline. So far I've come up with: more upgrades (gardening books, mini glass houses, fertilizer, lights system), music (something reggea-like), achievements (timesClicked, weedGrown, weedSold, plantsOwned, workersOwned), background image, tool tips or any form of comments/newsticker, a disclaimer, massages if something was bought or money wasn't enough and of course balancing.
1 Day,1 h, 28m left: My boyfriend just tested what I have so far and wouldn't give me my laptop back because he enjoyed it so much. But I'm not getting to excited about it since it's probably only because of the theme. Currently I'm getting more and more ideas for additional functionalities. We'll see how much of them I can implement before the deadline. Ideas include needing gardening books to unlock further upgrades & random police searches with punishment.
1 Day,0 h, 57m left: All the upgrades I came up with are now implemented and the last three only show up if enough books on gardening are read. It's 2am now and I will stop for today. I'll just have a quick look at a music program I downloaded and then I'll go to bed. Hopefully tomorrow will be just as good as today!